How Scientific Selling drives sales effectiveness
Boost Sales with DISCerning Selling
Speaking the same language behaviourally helps you to stand in your customer's shoes and to better understand their needs.
Customers and prospects speak a mix of 4 basic behavioural languages:
Dominance (Red): Takes charge of the process. Makes quick decisions. Values their time and want to get to the bottom line quickly. Wants the best deal. Only has time for winners and for those who can add value.
Influence (Yellow): Wants to connect and engage. Life is more than just business. Willing to experiment and be an early adopter. Willing to share positive experiences with others (word of mouth gem!)
Steadiness (Green): Needs to be able to trust those they do business with. Might be reluctant to make quick decisions – patience is important. Once decision is made they continue to buy (loyal).
Conscientiousness (Blue): Prefers to be formal and business-like. Needs evidence to support claims. Keen to maximize value (price conscious).
Kirk makes the common error of failing to ask for the business. By failing to identify his prospects behavioural style he will continue to have pleasant visits while his prospect buys from the competition.
Watch as Kirk recovers from a bad start by speaking to Irma in her preferred behavioural style.
Look at the difference when Kirk combines DISCerning Selling and Scientific Selling techniques. He identifies the prospects behavioural style and applies what he learned about Buying Signals.
The Scientific Selling Development Process
1. Forensic diagnostics to identify blind spots and areas for development
2. Scientific Selling interactive, online course – accessible online
3. 90-day High Performance Habits Transformation Process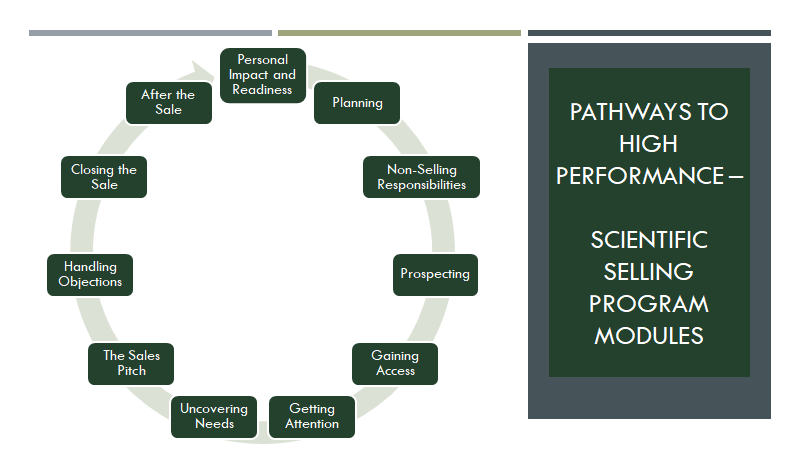 Contact us now!